"FlagOShrooms" Choker
by David LaPlantz ·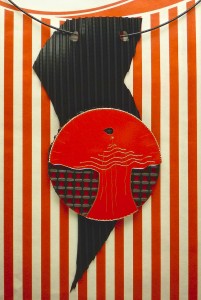 Did someone say choke or choker? Same difference, yet it is in the translation of the word that we with do or don't.
All we need now is a "choker" to hang it from to match the rope around all of our necks due to nuclear research and the obvious dangers, deceptions and overall fallacy. God Save Us…
"FlagOShrooms" Choker. 2″ Roundos Broocho is removable to a safer, non radiated environment, maybe!? Fabricated industrially painted aluminum, plastic mesh, engraved and cold connected with rubber and 18″ cable choker. © David LaPlantz and The White Knight, Black Cloud Bench Pin Imagery Maker, 2014.