"Clickin" Broocho
by David LaPlantz ·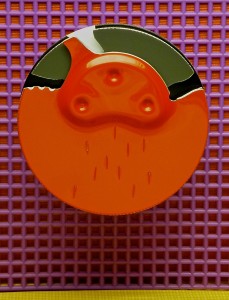 She walked into the room, heel and toe plates clickin' across the hard oak flooring.
The audio announcement was only as large as her persona, thus filling the room with hope and expectation. Hail to metallic, heel sounders when it comes to making a presence in the world of of madness and misconceptions.
"Clickin" Broocho. 2″ diameter, fabricated industrially painted aluminum, hydraulically formed, pierced, engraved & cold connected. © David LaPlantz, 2014.