"What'sthePoint" Broocho
by David LaPlantz ·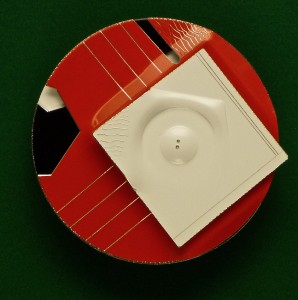 I've seen that look in her eyes. I've felt the question, but never heard it verbalized. We've all asked it, under our breath or fully formed from our vocal cords. Need I say more?
From one reel to another through the record mode the sound was magnetically attached to the tape. Now, to rewind and play or hold it within the heart?
"What'sthePoint" Broocho. 2″ diameter, fabricated industrially painted aluminum, hydraulically formed, pierced, engraved & cold connected. © David LaPlantz, 2014.