"In ten years, you'll be embarrassed by this photo!"
by David LaPlantz ·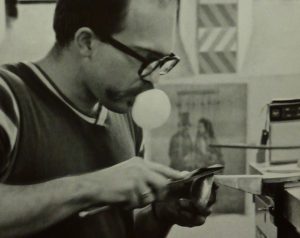 David recently sent to this photo to an old friend from Cranbrook Academy of Art Daze.
Howard Crisp took this picture of me working away at my bench, 1968-69. The photo represented me in my master's thesis. My teacher said quote "In ten years, you'll be embarrassed by this photo!"
My response, "No, I won't!"
There was a dent, in the ceiling above his head, after my honest response!
Guess what?
I am still not embarrassed by the photo.
It was me then, it is me now.
I liked who I was then and still believe in that artist and human, I have matured to be in the last 47 years.
Ain't life a gift and worth it all?
Happy New Year, 2018 to you all.
Keep up your art, your life, your faith and trust…
BYW-the radio on right pix side was either tuned into WXYZ, Keener Radio – WKNR or probably CKLW, info for those who knew Detroit radio then.
If this was a night time photo, a Detroit jazz station was on, mellow and inspiring…