Rock Music Tribute Series, "House of the Rising Sun" Bola
by David LaPlantz ·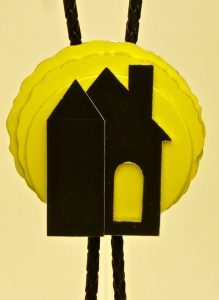 Rock Music Tribute Series: "House of the Rising Sun!"
The Animals and Eric nailed this tune, maybe you agree?
You remember, there is a house in New Orleans…?
Cola, Lola, Yola Bola.
Mock up of parts, so far, still fine detailing and assembly to finesse.
2 1/2″ X 2 1/2″ X 1/4." Fabricated industrially painted aluminum.
© David LaPlantz, 2018.