Remembering Shereen
Shereen LaPlantz
Photographs of Shereen LaPlantz
Gallery commands:
"SL" button starts the Slideshow.
"FS" button displays gallery in Full Screen mode.
"i" button displays the text description.
---
Dear People Shereen Wrote:
Today is September the 22nd and many of you already know what I am about to write. Shereen made her final transition on September 11, 2003 at 4:15 PM. She had fought the fight valiantly, but her body could not go on. Her spirit, however, will live on forever in her work, from her teaching and the countless people like you whom she touched and who touched her, during her short life. As I tap away on the keys, I can see and hear Shereen doing the same communication. I miss her desperately.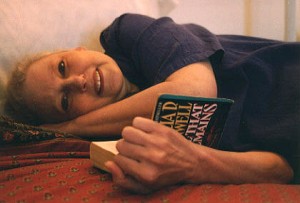 Let me tell you some things — Shereen was not in pain at the end. We had obtained a hospital bed that was right next to me in our bedroom. Shereen was peaceful and comfortable in her final hours. The bed was adjusted so that she could breathe better. Marian, our wonderful Hospice Nurse was with me when she transitioned. I am so thankful that I was, we were not alone. After her death, we dressed Shereen in some pretty clothes and beautiful book arts earrings. She was taken to the mortuary about 9:00 PM. I spent a lot of time with Shereen before she left. In fact, I kept thinking she'd wake up and say, "Let's watch a movie!" Wishing doesn't always make things come true….
The following (italicized writing, added 11/28/2010) have never been written before and barely ever spoken. These personal images have resided deep within my heart and soul. When the white van came to remove Shereen for cremation, she was gently carried out of our house on a folding gurney and placed in the back of the van. As I looked out the front door van (for the last time) at the van, before the twin back doors were closed, Shereen's right hand and arm slipped off her body! It was as if, even in death, her last physical message to me was waving "goodbye!" I could almost hear, in my heart, her lovely voice saying, "Goodbye Darling," as she said every time we parted before her death.
Shereen was cremated on Tuesday of the next week. My Mother and I drove down to Santa Rosa, CA for the ceremony. Flowers were placed upon Shereen's box upon Shereen's box and we both wrote messages on the box top. After that, Mother and I had a Shereen's life celebration picnic under a beautiful small tree next to the cremation. We spent a considerable amount of time looking through photo albums and talking about our married life together. My Mother was great — she gave me some beautiful, quiet time alone. I stretched out upon the small bench under that beautiful tree and for 45 minutes listened to the Loving Spoonful singing our favorite songs and remembering so many wonderful and happy times we spent together spanning almost 33+ years.
As we sat on a bench next to the crematorium, the heat created by Shereen's cremation cast a beautiful series of shimmering, transparent shadows on the tall uncut, green grass. This symbolic imagery seemed like another way nature speaks to us, displaying the magic and wonder of life. I have carried this unforgettable and amazing imagery in my heart and mind ever since….
Another 45 minutes passed, when David (ironic, isn't it?) the technician who performed the cremation, came around to tell us the ceremony for Mrs. LaPlantz was finished. We said a few more prayers and departed for home.
Shereen's ashes and a lock of her hair were delivered the next evening.
Every year, on the anniversary of her final transition, at the exact time of her death, I carefully scatter a small portion of her ashes around a huge rock on our New Mexico property that I know Shereen would have loved to sit upon and survey her vast New Mexico, high desert landscape.
So now you have lived Shereen's cremation experience through my eyes, mind, heart and soul.
Grieve not for Shereen, but breath in the magic and wonder of life while you celebrate the fabulous beauty of living and the bountiful gifts of art, joy and peace.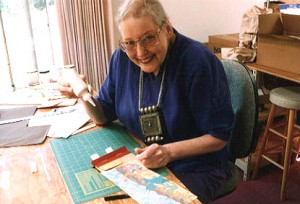 Shereen is directing a Book Arts Class in another dimension right now and telling wonderful stories and relating all of the facts and vast information stored in her beautiful head. Live your lives in her spirit. Make great and inspirational art books. Delve into topics that stretch your heads, hearts and imaginations, as Shereen would demand. Don't cop out! Be all and more of the artist you can and will be. Push those binding possibilities to the limit, make fun fold outs, pop ups, whatever and do it in the spirit of love and devotion for an artist who really gave her all. Shereen's spirit is always present and guiding us in ways, we cannot imagine.
The Hospice of Humboldt in Eureka, CA, and in particular the wonderful Marian Reeves, was the positive source and means that has kept me balanced and sane.
Donations, in Shereen's name, to our Humboldt Hospice or the Hospice in your area will greatly enhance other peoples' lives and would be wonderful.
Love and Smiles,
David
Music: "Near The Soul Plane" (Michael Hall) Copyright © 2008 Michael Hall. Used with permission.